Baseball Cages Are Open!
---
---
Drayton Valley Minor Baseball Parents and Athletes,
In the beginning of the 2018 baseball season, DVMB purchased batting cages, pitching machine with autoloader, and other equipment. We were very fortunate for the support of the community and sponsorship that made it all possible.
As a board, we wanted to utilize this equipment, and with the support of Judy Sweet and her Wellhouse Building, we have setup the cages starting again February 15, 2023.
SCHEDULE & BOOKING
Batting cages will be available Sunday to Saturday from 6am to 10pm for usage.
Online Booking - https://dvmb.skedda.com/booking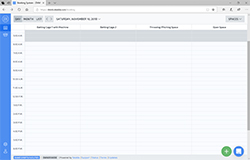 For the months of February to August 2023, the cages will be available for booking and the fee will be included in a monthly, family membership fee.
Head to https://www.rampregistrations.com/login?v3=c7964d419a to purchase a family membership.
DVMB will review the progress and any adjustments that need to be made to billing or availability will be discussed with members.
Tentative Schedule
Tentative 2 Week Schedule
Mon
3pm - 10pm
Open for Booking
Tue
3pm - 5pm
Open for Booking
5pm - 6:30pm
Whiffle Ball Tournament
7pm - 10pm
Open for Booking
Wed
3pm - 6pm
Open for Booking
6pm - 8pm
Baseball Skills
8pm - 10pm
Open for Booking
Thu
3pm - 5pm
Open for Booking
5pm - 7pm
Tball and Rookie Open House
7pm - 10pm
Open for Booking
Fri
3pm - 10pm
Open for Booking
Sat/Sun
7am - 10pm
Open for Booking/Camps
Camps take priority if scheduled
RULES
It is mandatory that athletes are supervised by an adult that has completed their DVMB batting cage orientation*. Here are some rules that need to be followed at all times to guarantee the safety of the users and to make sure that nothing is broken.
---
MUST BE REGISTERED FOR DVMB
Take off outside footwear at the door
Only one person in batting cage while pitching machine is running
No cleats
No food or drinks in the cages
Helmets on in the cages
Clean up after yourself
NO HANGING OR PULLING ON CAGE NETTING
---
Location
Wellhouse Building
5416 Industrial Rd, Drayton Valley, AB
Contact Information
Call:
Steve Horn - 780-202-2105
OR
Pam Horn - 780-898-9879
for questions, booking and entrance into building.